Bloggers are everywhere these days. But have you wondered who is a blogger and what does a blogger do?
Maybe you have thought about being a blogger for a living, or maybe you are already a blogger but have never thought about what it is that you do.
In this post, we will give you an overview of who a blogger is and what they do. We will also cover why you would want to be a blogger and what you have to do to become a blogger.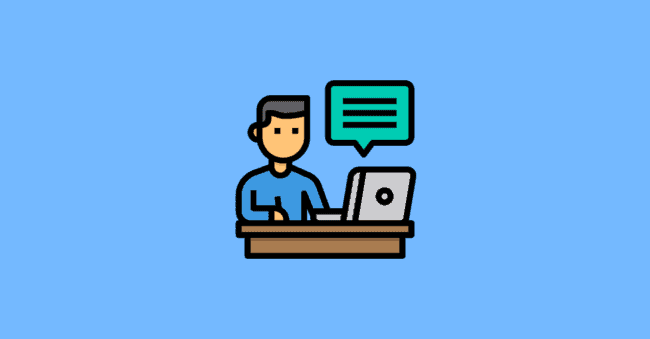 Who is a blogger?
A blogger is anyone who writes content for the web. This can be in the form of articles, blog posts, or any other type of content. Successful bloggers can be professional writers or amateurs who just enjoy writing and sharing their thoughts online.
What is a blog?
A blog is a website where the content is typically presented in reverse chronological order, with the most recent post at the top. Blogs are often used by people to share their thoughts and experiences on a particular topic or to keep track of what they are doing.
What does a blogger do?
A blogger's main job is to produce content. But that is only a small part of what they do. They also need to promote their content, engage with their target audience, and grow their blog's readership. Bloggers should also monetize their blogs to make a living from them.
Bloggers do the following on a regular basis:
1. Write Content
This is the main job of a blogger. They produce articles, blog posts, videos, or any other type of content for the web.
Bloggers will first start by doing keyword research to determine what their audience is interested in. Once they have identified the keyword they will need to research more about that topic so they can produce quality content around it.
They will then produce the content around the keywords to help attract traffic from search engines. Some bloggers outsource their writing, while others prefer to do it all on their own.
Bloggers also need to be creative and come up with new ideas for content all the time. This can be a challenge, but it's also one of the most rewarding parts of the job.
Check out our in-depth guide on "How to Write A Blog Post" to learn more.
2. Create Images
Images are a very important part of content. They help break up the text, make the content more visually appealing, and can also help with SEO.
Bloggers need to be able to create their own images or find free stock photos to use in their articles. This can be done with Photoshop & Illustrator, but bloggers these days use Canva because it's so easy to use.
Canva has a wide variety of templates and tools that make it easy for anyone to create beautiful images. You can also create infographics, social media posts, and more with Canva.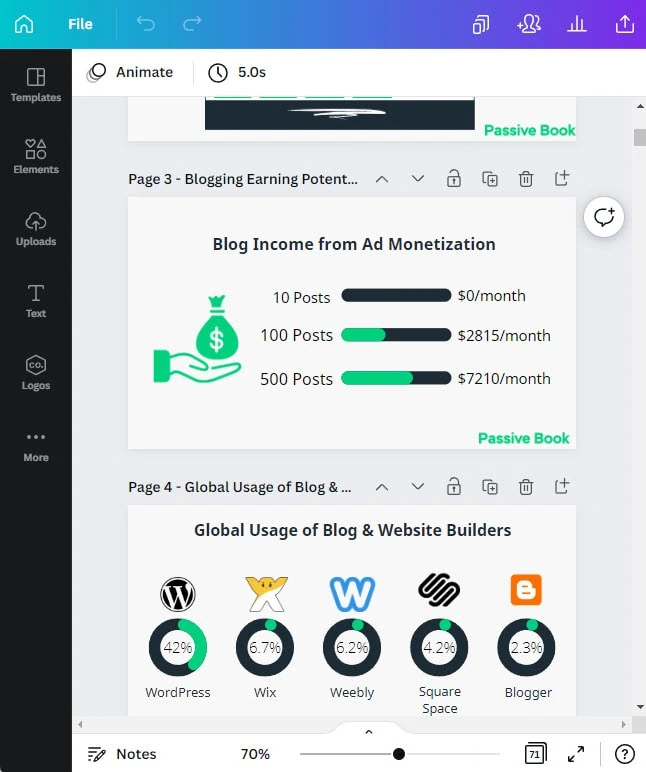 Their pro version will give access to millions of stock images and graphics. You will also unlock a lot of pro features that will make Canva the only design tool you will ever need to create images.
3. Search Engine Optimization
SEO is the process of optimizing a website or article so that it will rank higher in search engine results.
Bloggers need to be familiar with SEO and how to optimize their content for better rankings. This includes using the correct keywords, title tags, and meta descriptions. Bloggers also build links from external websites to speed up the process of ranking their content.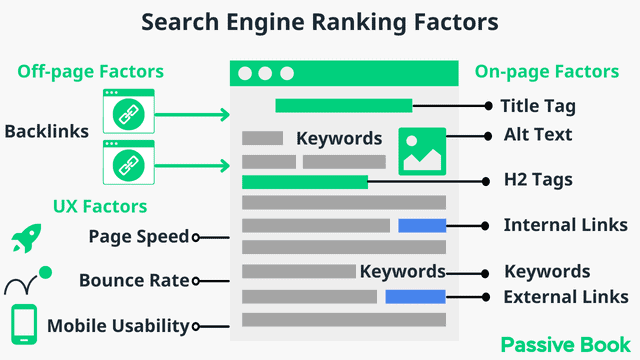 SEO can be a complex topic, but our SEO Resources will help bloggers master it.
4. Social Media Marketing
Social media is a powerful tool that bloggers can use to connect with their audience and grow their blogs. Pinterest, YouTube, and Twitter are the most popular social media platforms among bloggers.
Most bloggers use at least one social media platform, but some use all of them. They will need to create content specifically for each social media, as well as share other people's content. They will also need to be engaged with their audience and respond to comments and messages on the social media platform.
Building a social media following can be a time-consuming task, but it's worth it if you invest your time in the right platforms.
5. Email Marketing
Email marketing will let bloggers generate traffic and money on demand by sending a single email or newsletter. Email marketing is the process of sending emails to a group of people promoting products or the latest blog posts.
Bloggers can use email marketing to promote their content, products, or services. They can also use it to build relationships with their audience and drive traffic back to their blog.
The best way for bloggers to get started with email marketing is by creating an email list. This is a list of people who have voluntarily signed up to receive emails from you. Bloggers need to offer something for free in exchange for their email addresses. Bloggers can then send them their latest blog post, or offer them a product or service.
Email marketing can be a powerful tool if used correctly. It's a great way to connect with your audience and keep them coming back for your latest content.
Bloggers use a tool like Thrive Leads to design opt-in forms to collect email addresses. Once they have their visitor's email, they will use an email marketing software like Active Campaign to schedule and automate their emails.
6. Engage With the Audience
One of the most important things bloggers can do is engage with their audience. This means responding to comments, messages, and social media posts.
It's also important to be social and connect with other bloggers. This will help bloggers build relationships and get more exposure for their blogs.
7. Monetize with Ads
The most common way to monetize a blog is by placing ads. Advertisers will pay bloggers to place their ads on their websites.
Bloggers can use services like Google Adsense, Ezoic, or AdThrive to place ads on their website. They will need to create ad units and then add the code to their website.
Bloggers either get paid for every thousand impressions they get on their website or when someone clicks on the ad.
[ninja_tables id="17301″]
Ads are a great way for bloggers to make money, but bloggers need to be careful not to overwhelm their audience with too many ads.
7. Recommend Affiliate Products
Affiliate marketing is a great way to make money as a blogger. Affiliate marketing is when you promote someone else's products or services and get paid a commission when someone buys through your affiliate link.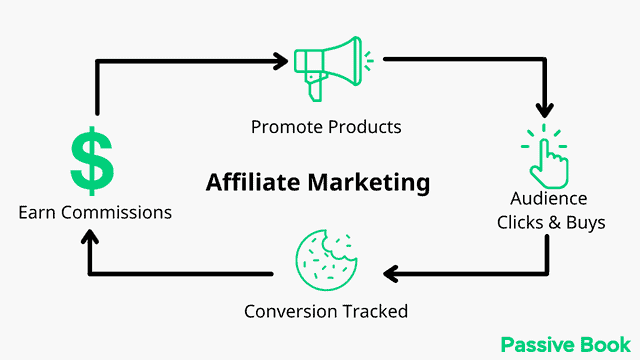 For example, Digital Camera World has a buyer's guide on the best digital cameras. They will earn a commission every time someone clicks on their affiliate link and makes a purchase.
Many bloggers use affiliate marketing to make money. They will find products to promote, create a review or giveaway post, and then include their affiliate link. When someone buys the product through their link, they earn a commission.
9. Sell Products
Another way to make money as a blogger is to sell products and services. This can include things like eBooks, online courses, or physical products.
Bloggers will need to create content around their products and services and then market them to their audience. They will also need to set up payment processing and delivery systems.
For example, many food blogs sell recipe books. Here is an example of a recipe book by the Minimalist Baker.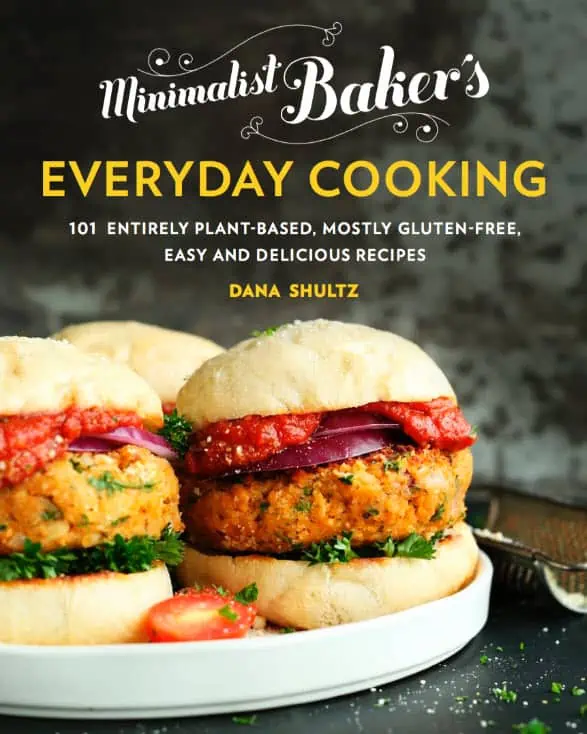 You can use Teachable if you want to sell video courses. Your students will have a dedicated course members area and a community system to ask questions and interact with each other. If you only want to sell eBooks, you can use SendOwl which lets you sell your digital products and eBooks for free.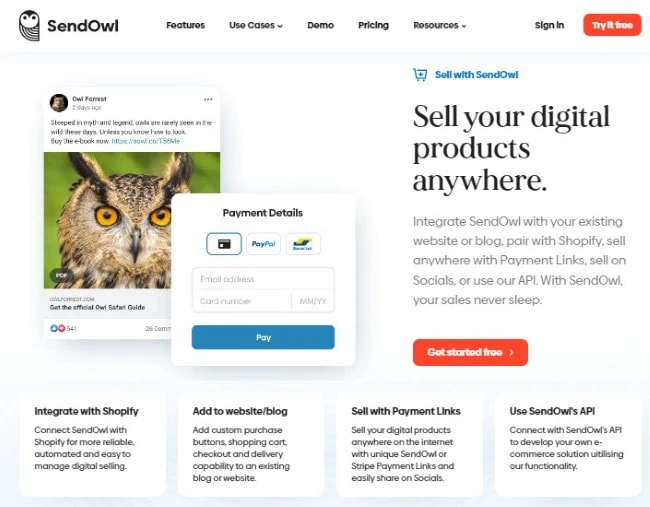 Why become a blogger?
There are many reasons why someone might want to be a blogger. Some people enjoy writing and sharing their thoughts with others. Others see blogging as a way to make money or build a business.
Blogging can be a great source of passive income. Once you publish your blog posts, you will keep making money as long as you keep getting traffic. How much money you make depends on the number of posts you have published and the amount of traffic you get. A blog with 100 posts that gets 100,000 pageviews per month can make $2800 per month on average. Use the Blog Earning Calculator to find out how much money you can make.
How To Become a Blogger
To start a blog, you will need to purchase a .com domain name and web hosting. You can then install WordPress in your web host to create your blog.
If you are interested in starting your own blog, check out our step-by-step guide on how to start a blog that will help you get started.
If you want to master blogging, then check out all our learning resources in the blogging hub.
FAQ
Here are a few frequently asked questions:
Can anyone be a blogger?
Yes, anyone can be a blogger. You just need to have something to share with the world and be willing to write about it.
What type of content do bloggers write?
The content a blogger blogs about depends on their blog's niche. Most bloggers share their expertise, thoughts, and opinions about a topic, but they can also write about products or services they like or events they attended.
What is the average salary of a blogger?
There is no average salary for bloggers. It varies based on the type of blogging you do, how popular your blog is, and how successful you are. 
How do bloggers get paid?
There are many ways for bloggers to get paid. Some common ways include placing ads, selling affiliate and digital products, or offering services.
How much work does it take to be a blogger?
It depends on the type of blogging you do. If you want to make money, then you will need to put in a lot of work. But if you just want to share your thoughts, then it doesn't take as much work.
What is the difference between a blogger and a journalist?
Bloggers write about their thoughts and opinions, while journalists are supposed to be unbiased and report the news.
What Next?
We hope this guide helped you understand who is a blogger and what does a blogger do.
If you have any questions, drop a comment below.
To learn and master blogging, check out the blogging hub.
Share this post with your friends & followers: